2015 AGM and Conference – Connemara Western Ireland
September 10, 2015

-

September 14, 2015

£285
The Heather Society Annual Gathering and AGM, 2015: Connemara, Western Ireland, 10–14 September 2015
A chance for a wonderful company of heathers … and good craic
Twenty years ago The Heather Society held a very successful annual gathering in Dublin with an excursion to Connemara. Previous visits by the Society were in 1968 and 1983.
In 2015 we plan to hold our Gathering in Leenane, the village at the head of Ireland's only fjord, Killary Harbour. It is a celebrated place. In 1834, Henry Inglis wrote that the mountains were "lofty enough, and rugged enough, to verge upon sublimity … and the bouquet of heaths, was reserved for the wild bee." Little has changed! Come, join us, and enjoy that bouquet. It's too good to be left to the Irish bees!
Conference venue
The Leenane Hotel is said to be the oldest coaching inn in Ireland. The hotel is situated on the shore of Killary Harbour and its facilities includes warm seaweed baths. All the roomsreserved for Heather Society members will have sea-views and en suite facilities. Local produce is served in the dining room, including freshly caught wild salmon.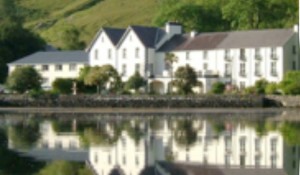 Estimated cost
4 nights bed & breakfast, 4 dinners and all excursions and gratuities
UK£ 285.00 per person
NB travel* to and from Leenane is not included
Programme to be finalized
We have included an extra day with visits and excursions to
• Roundstone Bog
• the renowned Victorian walled garden at Kylemore Abbey
• Killary Harbour
Talks included will be on
• local history and folklore
• plants and wildlife of Connemara
Following the Society's AGM on Sunday morning we will offer our guests a chance to explore Killary Harbour either
• … on the Connemara Lady catamaran, or
• … on foot along the "Green Road", an ancient track, from Leenane along the southern shore of the fjord.
There are at least eight different wild heathers in Connemara, including Dorset heath, the hybrid Stuart's (or Praeger's) heath, Irish heath and bell heather. We can see all of them in the wild, although the Irish heath, being a spring-blooming shrub, won't be in flower.
Brochure can be downloaded here:- Connemara 2015
---
Payment for conference fees
If you have any fees to pay, simply click the button below and you will be redirect to our PayPal payment page. You can enter the amount you wish to pay on the PayPal website.