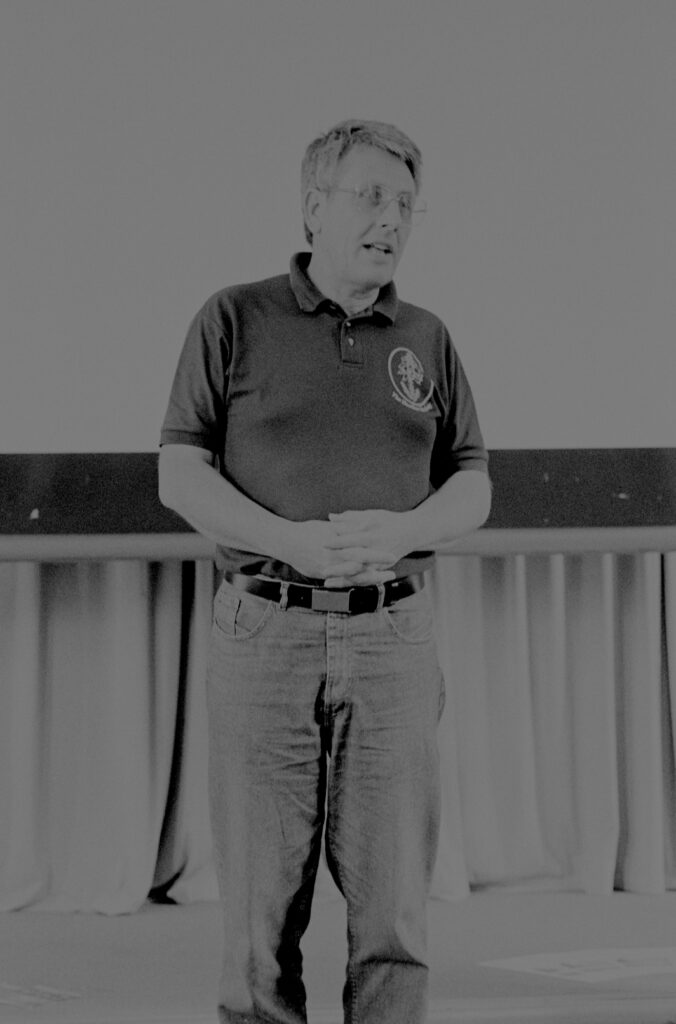 It is with great sadness that I report the sudden and unexpected death of our Honorary Secretary Phil Joyner. Phil joined the Society back in 1972. He has during the 48 years since he joined been a tremendous asset to the Society through all his hard work and endeavours to promote both the Society and of Heather growing to the public. Phil recalls his interest in growing heathers starting following his purchase of terry Underhill's book Heaths and Heathers which he acquired through a book club (see The Heather Society Bulletin Vol. 6 No.1 Autumn 2000). He was living at Holbury in the New Forest at this time where he first started growing heathers.
Phil was born on 10 February 1946 in Lyndhurst, which is the heart of the New Forest but lived for most of his life in Totton with his wife Lin, where they brought up their two daughters. When Phil lived in Holbury he worked at a chemical factory adjacent to the Fawley Oil Refinery. On 1977 he changed his job to work for a computer company on Totton, where they moved with Lin and their two daughters in 1977.
I first recall meeting Phil around 40 years ago, when I was living with my parents at Chandler's Ford. I had accompanied my father to the Southampton Show and I noticed heathers for sale. I had already joined the Society a few years earlier around 1974. We would have discussed the Society at that time and I would have bought a few heathers to add to my early collection. Phil was organising the South-west group of the Society from 1978 and he encouraged me to attend some of my early meetings which were held at Lychett Matravers Village Hall in Dorset. These were fond memories of Phil. He introduced me to Phyllis Kennedy (1910-2000), who gave us encouragement about growing South African heathers. Phil grew several South African heathers in his greenhouse in Totton.
We were both given a plant of Erica longifolium by former member John Tucker, who believed it to be a South African erica. We kept in out greenhouses, but we discovered it was actually Erica multiflora. Phil named it Erica multiflora 'John Tucker', which is still one of my favourite heathers.
In 1984 Phil was voted into Council where he soon made his mark organising THS Conferences. I had just moved to London at that time but I would still try to attend a few of the South-west Group events when I came to visit my parents at weekends. I got to know Phil better when I first attended the Society's Conferences, which he organised with meticulous care. The Conferences he organised were always located in different parts of the UK, where heathers could be seen growing naturally. The selection of hotels we stayed were beautifully appointed and so welcoming for the delegates, especially our overseas visitors who often jetted in from California, Oregon and Maine in USA, Norway, Holland, Germany and Ireland.
Phil carried on as Conference Manger through to 2011, when he handed the baton to Susie Kay. His work for the Society carried on as he took on the role as Treasurer until 2013 when he became Honorary Secretary, an arduous and time consuming rile, which Phil undertook with his usual meticulous care and attention to detail. In recent years Phil has been the mainstay of the Society dealing with the Charity Commission as we change to Heather Society, a membership Society, unencumbered by the Charity Commission.
Phil's dedication to the services of the Society did not stop here. The Chairman David Edge has run a number of events at Hampton Court Palace as part of the Royal Horticultural Society (RHS) Annual Flower Show in the summer and Phil was always an ever present volunteer. I shared many happy occasions at the show with Phil advising the public on how to grow and care for heathers, advising on the different species, cultivars and colours, as well as selling heathers. He was as always polite and friendly with the members of the public occasionally sharing a joke or two.
Also John Hall would participate in the Annual Wisley Flower Show in June and again I had the pleasure of Phil's company sharing in advising members of the public on how to grow and care for heathers. Phil and his wife Lin were also regular attendees at Home Counties Heather Society events, particularly at RHS Wisley where THS members would gather to see the National Collection of heathers and join in the discussion about heathers at the xx . Lon would bring lovely cakes to share with members at tea.
And more, Phil was also a member of his Totton and District Gardner's Society for many years and was Honorary Secretary from 1997 to his death. He was known for giving talks on heathers and also fuchsias, as he collected these plants as well. He was also an avid steam train enthusiast and would participate in the Swanage to Wareham and Watercress Line journeys.
Phil as a truly dedicated Heather Society member for almost 50 years and we all owe our thanks to his inspiration, kindness, generosity and friendliness. We have all lost a great friend and companion and a real gentleman.
Phil's wife Lin and daughter, Amanda, attended his funeral on 19 August 2020. His other daughter Sharon sadly passed away. Dave Brown kindly attended on behalf of the Heather Society. A very befitting floral tribute was presented with a steam locomotive laden with heathers. It reminded me of the Heather Society Conference in North Wales where Phil and Lin along with members took a steam train through the Welsh moorland with heathers in flower.